Gimlet
General information
Status
Gender

Male

Species
Age

?

Origin

Unknown

Occupation(s)
Former Employer(s)
First Appearance
Creator
Hideyuki Kikuchi
Gimlet a Mutant, also a member of the Fiend Corps. He has a pointed head and a frame streamlined like a shooting star-class rocket.
He makes his appearance in Vampire Hunter D.
Powers and Abilities
Edit
Gimlet was as streamlined as the tool he was named for. As a result of mutation, he was capable of superhuman bursts of speed in the vicinity of 300 miles per hour. His body didn't sport a single hair and his face was relatively free from sharp features.
He has a trick in which he would run a few yards, pause for an instant and then run some more. By doing this over and over, he could leave after images of himself.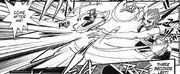 Paraphernalia
Edit
Gimlet uses a Bowie Knife.
Gimlet trades his signature speed for airborne features, while attached to his hands are two large blades.