Sheriff of Garucia
General information
Status

Alive

Gender

Male

Species
Origin
Occupation(s)
First Appearance
Creator
Hideyuki Kikuchi
Sheriff of Garucia is a character from Vampire Hunter D: Bloodlust. He is the unnamed sheriff of the town Garucia, where Polk lives.
Appearance
Edit
He is a middle-aged man dressed in a sheriff's uniform. He had blue eyes and brown hair with a hat on his head, which is a feature for all sheriffs. His attire consists of a white long-sleeve dress shirt with a thin blue tie, and a waistcoat over it. He also wears a standard brown suit and shoes. He carries a standard gun powered weapon and a holster with a sheriff's badge pinned to his chest.
Personality
Edit
It seems that he takes seriously his job as sheriff, trying to maintain order in the town confiscated Leila's weapon or forcible removal Dhampir for the safety of citizens. Like most human beings, he shows contempt for Dhampir, probably because they're an offshoot of a vampire. After Polk told that he was one of the children who were rescued by D, the Sheriff was visibly shocked.
Biography
Edit
He first appears in the local bar, with the intention to confiscate Leila's Sliver Gun. During their short conversation, Leila planned convinced Sheriff to chase D out of town because of his Dhampir nature.
When the Sheriff and his deputies come to expel D, Polk told his story and pointed a large rifle at them, allowing D to go in peace with his newly purchased cyborg horse.
Equipment
Edit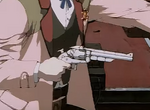 Underlings
Edit
Sheriff's deputies
(To Polk about D's half vampire nature) " Can't say I blame them for doing that. You can't trust 'em! That's all that's about. ".
Community content is available under
CC-BY-SA
unless otherwise noted.