Thornton
General information
Status

Deceased

Gender

Male

Appearance

Height:5 foot

Weight:0ver 180

Eyes:unknown

Clothes:Suit

Build:Pudgy,
dough boy

Species
Age

Unknown(older
than 30)

Origin
Occupation(s)
Family

unknown

Master(s)
First Appearance
Creator
Hideyuki Kikuchi
"Desert crossing or not, this job isn't done until you kill the Hunter. And until then, I don't get my due, either. See to it you kill him today for sure."
―Thornton
A Lawyer who was hired as a mediation for his employer, to send D across the Desert of No Return, in return for information on some one he has an interest in.
Appearance
Edit
With a face that makes it impossible to tell whether he's young or middle aged, he's about five feet tall and has a considerable amount of fat on him.
Biography
Edit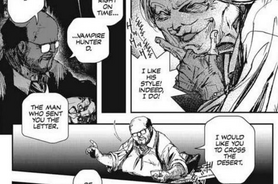 When he meets
D in
the
Desert Town
he's in the middle of another mediation between two hookers with the help of a popular and strong
Frontier Aphrodisiac
. Telling
D
of the agreement for the job to cross to the town of
Barnabas
from the
Desert Town
. The reason he can provide the information is because his
employer
is the person that D seeks. The lawyer has a three-story-building in
Barnabas
. He crosses the Desert of No Return in a
flyer
, being one of the few people who can use such a device. Thornton also hires the
Bullow Brothers secretly
with out D's knowledge long before their encounter to do away with
D
, it's not clear whether the same one who employed Thornton also had him set this in motion.
Equipment
Edit
Employees
Edit
Community content is available under
CC-BY-SA
unless otherwise noted.