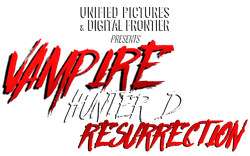 So it begins...


This article or section contains information about scheduled or expected future product(s).
It is likely to contain information of a speculative nature and the content may change dramatically as the product release approaches and more information becomes available.
Vampire Hunter D: Resurrection, also referred to as Vampire Hunter D: The Series is an up coming CG animated series based on Hideyuki Kikuchi's novels.
Known Information
[
]
California-based production studio Unified Pictures told ANN that it is unveiling plans for a new CG-animated series based on Hideyuki Kikuchi's long-running Vampire Hunter D novel series at the Anime Expo. The company is co-producing the series with Japanese CGI animation studio Digital Frontier (Resident Evil: Degeneration, Tekken: Blood Vengeance, Mighty No. 9).
Kikuchi himself, as well as Vampire Hunter D: Bloodlust director Yoshiaki Kawajiri, are also involved with the project.
Unified Pictures producer Scott McLean said the company is looking to bring the series to television. "I've been a fan of Vampire Hunter D since I was a teenager," McLean said. "I'm overjoyed at being able to be a part of creating a new chapter for a story I greatly admire."[1] Aditional Details will be announced at the Anime Expo. [2] GACKT will provide the opening song for the series.[3] According to VHDtheseries  who posted on this site on Mandi-Cakes wall, the creators have mutal friends with GACKT nothing is confirmed yet for him to do the opening song. It will be multi-regional, multi-continental, be multi-linguial and will appear on multiple platforms. Not exclusive to just television. It is also very likely we will see a cross over story possibly with The Noble Greylancer. The makers are not looking to do a remake of either book dealt with in the movies such as Vampire Hunter D Vol. 1 or Vampire Hunter D: Demon Death Chase Vol. 3. They may come back to those stories in the future but will be addressing other novels before those. There may be some broadened history on many of the characters as it depicts the things mentioned in the novels briefly.
Also, GACKT. Do we have some mutual friends, yes. Do we have a signed deal in place for him to do the opening song, no. Stay tuned :)
Indie 100 Interview
[
]
According to the interview with (Producer) Scott McLean, (Creative Consultant) @Talison Jaffe, & (Producer)@Kurt Rauer of Unified Pictures the format of 1 hour, 10 episodes a year is what the show will be.  The animation will be a mix of 2D and 3D CG like never seen before. There will be tons of new merchandise including swords, laser guns, figures, and more. We can look forward to seeing it possibly as soon as next year.  The show LISTEN LIVE on www.Indie100.com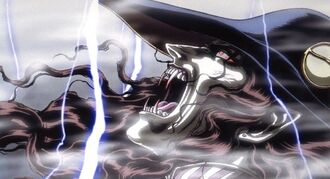 Anime News Network Interview
[
]
On October 30th 2015 both Hideyuki Kikuchi, and Yoshiaki Kawajiri's interviews were released on Anime News Network's site. The Links are here:
Hideyuki Kikuchi: http://www.animenewsnetwork.com/feature/2015-10-30/the-resurrection-of-vampire-hunter-d-part-i-hideyuki-kikuchi/.94794
Yoshiaki Kawajiri: http://www.animenewsnetwork.com/feature/2015-10-30/the-resurrection-of-vampire-hunter-d-part-ii-yoshiaki-kawajiri/.94823
Youtube Videos
[
]
Hideyuki Kikuchi Youtube discusion of Resurrection and the series in general from Anime Expo: 
Yoshiaki Kawajiri and Yoichi Mori  Youtube discusion of Resurrection and the series in general from Anime Expo: 
Another Anime Expo Video of the team:
References
[
]
External links
[
]