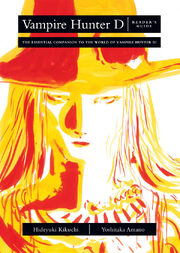 Within the Vampire Hunter D Reader's Guide is a collection of various definitions that pertain to various novels of the series. Each definition is detailedly explained to give reader's an idea of how things may have looked or information on various characters and equipment.
Dark Horse Comics' summary.
An international sensation for more than two decades, the now-legendary monster killer known only as "D" has conquered the worlds of movies and comics, and, since the publication of the first novel in English in 2004, is becoming just as popular in America and the English-speaking world as he has been in Japan for more than a dozen novels. Now, for the first time, go behind the scenes of the phenomenon. With rare artwork from Yoshitaka Amano and interviews that shed light on the inspirations for the memorable stories, you'll have a front-row seat at the creation of the two animated adventures of Vampire Hunter D and learn new secrets about the novels through detailed summaries.
Dark Horse has sold over 300,000 copies of Vampire Hunter D!
This volume contains a Vampire Hunter D short story from the character's creator, Hideyuki Kikuchi.
Featuring sneak peeks from upcoming novels, an extensive dictionary, and exclusive sketches and interviews!